We've all been there, you're using your phone, and all of a sudden it drops onto a hard surface. In many cases the harm done may only be minimal, but sometimes your phone screen can become damaged beyond repair. In that case, if you're left looking for an iPhone screen replacement then there are a few things you will need to consider. Likewise, if your phone is not working properly and you're thinking 'who provides the best phone repair near me?' then read on to find out the best solution.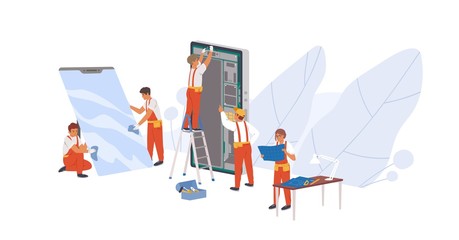 Tips for Finding Good Phone Screen Replacement
Finding the best repair service for your iPhone screen replacement can be tricky if you're new to phone repairs. However, the process is not impossible. Put simply there are a number of things you can look out for when you're looking for phone repair near you. Here are some top tips for finding the best service for your iPhone screen replacement:
Experience and Certification: A good place to start is to check if the phone repair company you want to use has technicians that have the experience and certifications to undertake the repair. Modern mobile phones are highly technical gadgets that should only ever be repaired by experts.
Genuine Parts: Another important factor to consider is the type of replacement parts that the technicians will use. There are many cheaply made clones of iPhone parts that may look good but none will be as robust and reliable as genuine Apple parts, for example.
Warranty: In addition to using genuine parts for your iPhone screen replacement a good repair service should also offer a reasonable warranty for their parts and service. A commitment such as a lifetime warranty on parts and labor will give you peace of mind and assurance about your chosen phone repair near me service.
Competitive Pricing: A genuine phone repair shop will always have clear and competitive pricing for its services without any hidden fees. When looking for phone repairs it is important to know exactly how much you're going to pay for them so you can make an informed decision.
Mobile Service and Shop: Nowadays it is not enough to just offer phone repair while based in a shop. A good iPhone screen replacement service will also offer mobile repairs where they can come to you to undertake the repairs. At trufyx, we can come to your home, office, or even a coffee shop – and repair your phone straight away.
Which is the Best Phone Repair near Me?
The tips above can also apply to those situations when you're wondering or checking via Yelp or Google; 'which one is the best phone repair near me?' A good phone repair service requires experienced technicians that can deal with any problem your phone may have. Having certified repairs will also ensure that the correct problem is identified and fixed instead of more problems being created.
From broken screens that need replacement to your phone not powering up, there are many things that can go wrong with your mobile. So having certified technicians handling your repairs is important as are using genuine parts, offering a warranty and a flexible service.
Lastly, another thing to look out for is competitive pricing. In general, a good phone repair service should have clear pricing on its various types of repairs and above all, it should be affordable. While repairing mobiles is a highly technical job a genuine repair service will not set out to rip off its customers. Therefore, adding up all the above, you should have the answers next time you ask yourself the question 'which one is the best phone repair near me?
A good start will be checking out what trufyx can offer:
Reliable Service.
Competitive Price.
Job Warranty.